Beatles On Vibraphone Compact Disk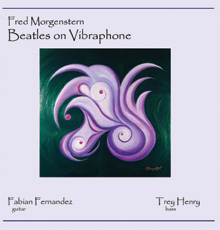 About the CD
This recording puts the vibraphone front and center in interpretations of classic Beatles songs. Some of the songs are played solo; others have jazzy accompaniments played by Los Angeles-area session musicians Fabian Fernandez (electric and acoustic guitars) and Trey Henry (acoustic and electric basses).
The recording has been favorably reviewed by jazz and Beatles-oriented publications since its release in 2004. It's especially well loved by fellow vibes players and percussionists generally.
The CD was recorded using some of the greatest audiophile gear available, including Apogee AD-16X converters, a variety of AKG microphones, and preamplification by Great River, Aphex Thermionics, and True Systems. In a nutshell: it sounds great! And conservative mastering preserves all of the transient energy of the vibraphone.
Purchasing information
The cost is $15.00 per CD. This includes shipping anywhere in the world.
Your satisfaction is 100% guaranteed, or your money back.
To order via Paypal (currently the only available method), click this button:


Audio samples from the CD
Click below for a snippet of each of the songs.
(These links will open in a new window.)
Eleanor Rigby
Sun King
Something
Fixing A Hole
Yesterday
Blackbird
Hello, Goodbye
If I Fell
The Long And Winding Road
Here, There, And Everywhere
Julia
Norwegian Wood
In My Life